Your body's circadian rhythm designates when you sleep or when you are awake. It can be greatly disturbed if you work a night shift. It's hard to sleep during the day and work at night. Fortunately, there are window treatments that can help you to get the rest you need no matter what time of day or night you lie down to sleep.
Your body needs appropriate good sleep to feel refreshed and ready to meet the next day or night shift. For night shift workers, getting quality sleep during the day can be a challenge due to the sunlight streaming through their windows. This is where room darkening roller shades come in. Let's explore the benefits of room darkening roller shades for night shift workers and why they're a must-have for anyone struggling with daytime sleep.
What are Room Darkening Roller Shades?
Room darkening roller shades, or blackout shades, are specially made to block incoming light and make your room totally dark in the daytime, so you can get your much-needed sleep and wake up refreshed and ready to hit the pavement again. Without good sleep patterns, you can have poor performance at work, which can lead to bad reviews at work and a lower grade of pay.
Blackout shades are a window covering that provides the maximum light blockage in your indoor spaces to give you peace of mind and a dark room. They are especially great for bedrooms and children's rooms to allow sleep when it's daylight. They also work well for your media rooms to keep the glare off your screens of TVs and any other room where you want to avoid light.
What Are Blackout Shades Made of?
Room darkening roller shades can be made of several different materials. The most common materials are blackout cloth, metal, or vinyl. You can choose from a large variety of styles and be comfortable in the daytime for sleeping. Light blocking roller shades are made from thicker fabrics that have a tighter weave to not allow light through them.
Benefits of Blackout Shades
Now that we've explored what blackout shades are made of, let's take a closer look at the benefits they offer for night shift workers. Blackout shades can provide numerous benefits for night shift workers, including:
The primary benefit of blackout shades is that they block out external light, creating a dark sleeping environment during the daytime. This can help night shift workers fall asleep faster and stay asleep longer, which is essential for maintaining a healthy sleep schedule.
Blackout shades can also help reduce external noises and disturbances, which can be particularly beneficial for those living in urban areas with a lot of traffic or construction noise during the daytime.
Getting enough sleep during the day can help night shift workers avoid the negative health consequences associated with chronic sleep deprivation, such as obesity, heart disease, and diabetes.
Overall, blackout shades are a simple and effective way to create a dark and peaceful sleeping environment during the daytime, helping night shift workers maintain a healthy sleep schedule and improve their overall health and well-being.
How to Choose Fabrics for Blackout Shades?
If you decide to go with custom shades, you have an enormous number of fabrics to choose from. If you love a certain one with a lacy look and appearance, a blackout liner can be added to the back to make the room darken and help you to sleep.
Light filtering roller shades are made from a huge choice of fabrics in solid colors, patterns, and themes, so you can find something that is perfect for your bedroom to match your existing decor.
What Size Do Blackout Roller Shades Come in?
Pre-made blackout shades only come in certain sizes; however, If you want them to fit your windows perfectly, go for custom window treatments. Custom shades are professionally measured and are guaranteed to fit perfectly, and operate properly to offer you the highest quality of workmanship as well.
Do Pre-Made Blackout Shades Work for Specialty Shaped Windows?
The short answer is no. You need to have a professional window treatment company for specialty shaped windows that will fit right. Precise measurements are taken and the company, such as Best Blinds and Sexy Shutters, can create cutouts for any items that need to be adjusted to fit right. Certain types of windows have cranks or locks on them to open them, and it takes customization for them to fit correctly. Custom shades offer you this consideration, and they also look spectacular as they highlight your specialty windows' architecture.
Consider Adding Motorization
For convenience and an added sense of privacy, security and elevated energy efficiency, add motorization to your custom blackout roller shades. Homeowners enjoy the fact that they can set a schedule to open and close the shades on a preset schedule. You can have them open to let in natural sunlight when you need to wake up for work after working a night schedule, so you are not jolted awake with an alarm. Set them to close and give you nice quietness to go to bed, with a window covering that gives you darkness and blocks outside noises.
Can I get Pre-Made Blackout Shades?
You certainly can, but they need to fit properly. To avoid any light gaps on the sides, top and bottom of the windows, they should be an outside mount option–meaning that the room darkening roller shades are mounted above the window and wider than the window to avoid extra light seeping in and disturbing you.
What Are the Advantages of Light Blocking Shades?
You get an extra layer of insulation to keep the heat and cold out of your bedroom all year round. You also have a more comfortable room to help you reduce your heating and cooling bills all year round, and make your home more energy efficient to save money.
What Are Cellular Blackout Shades?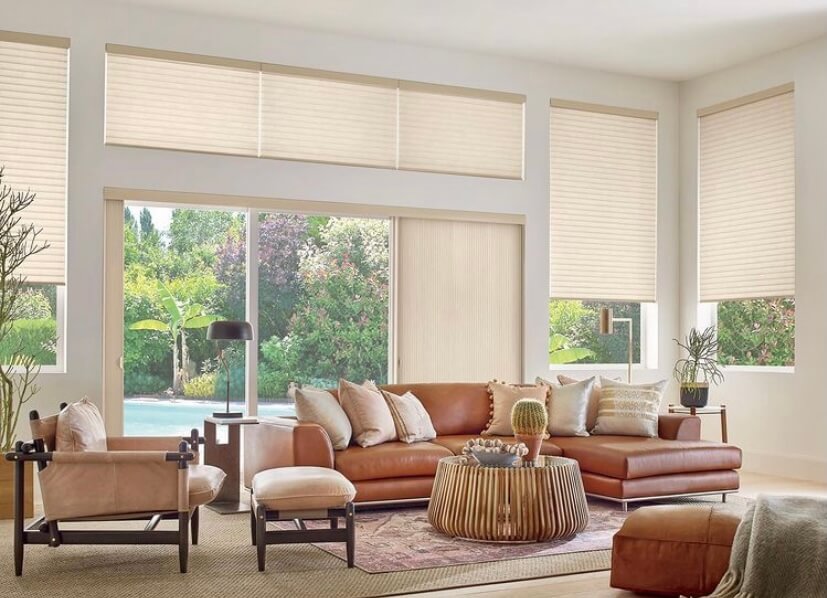 Cellular shades or honeycomb shades are the most energy efficient window treatments you can find. They have tiny cells of air pockets that are sandwiched between two layers of fabric to trap air next to the window. Hot air can't enter your indoor spaces in the summer, and cold air cant enter your private space in the winter. This is the best idea for sleeping comfortable all year round and saving money too.
What Are Other Great Uses For Room Darkening Shades?
Room darkening roller shades are all exceptional at keeping glare and sunlight out of your home theater areas. This allows you to enjoy your movies or other activities in solitude without any distractions from the sunlight or heat coming in through your windows.
Room darkening roller shades are a highly customizable product that work really well for maintaining a quiet, dark, and cool bedroom for shift workers to sleep during the day. They also work well for your media rooms, and you have choices from literally thousands of fabrics from which to choose your design.
Contact us at Best Blinds and Sexy Shutters for a FREE consultation with one of our expert designers to learn more about these types of window treatments.